AUTHOR AS AN EDUCATOR
Twin Rainbow-Irwin has worked extensively as a writer-teacher-naturalist with a culturally and ethnically diverse population of youth and adults of all ages. As a master teacher, he developed what became known as the Organic Approach to curriculum development. At one point he was a member of an alternative U.C. Berkeley architectural/education group called "Farallones Design" that taught University of California extension courses entitled "Changing The Learning Place" which led to the publication of an educational resource manual for teachers entitled Farallones Scrapbook. He was the Teacher-In-Residence of the Park South Teacher Center in the San Francisco public school system where he developed laboratory classroom explorations in self-structured community education and an outdoor environmental education program that was a precursor to later 'Urban Pioneer', 'Urban Adventure' programs. His organic classroom learning process was featured on the front cover and in the text of Building A Teacher Center, published by the Teachers College Press at Columbia University. These explorations led to the establishment of a Corbett Street Community School Project that was the precursor to what eventually became the Rooftop Community K-8th School movement.

Twin Rainbow-Irwin with his Aussie soul-mate, Beverly Ann, who he heralds as "My Mentor-Mistress-Muse."
At various stages in his career as an educator,
Twin Rainbow-Irwin
taught in-service "
American Indian Education
" courses and participated in social study task forces in the development of Native American curriculum guides. He has lectured in a number of diverse venues that include: the development of native-based curriculum at the elementary, secondary and adult levels on the
Crow Creek Sioux Reservation
in South Dakota; Education Director for the Centre of Action Research at Colorado University to develop an Oglala Community College on the
Oglala Sioux Reservation
; served as a member of an educational team that assisted the
T's' Zil Indians
, who were the first native people in British Columbia to take control of the operation and administration of their school system; developed native-based curriculum for learning disabled native youth of a pilot Ts'Zil high school; and served, as well, as a naturalist and Indian Resource Specialist at a number of wilderness-nature camps.
AUTHOR AS A HEALER
As a Hospital & Rehabilitation Teacher, he developed a pilot project to determine the educational therapy needs of youth-in-care in Human Resources assessment Centre & group homes in British Columbia, Canada. He also was the Teacher-In-Residence at Vancouver's Alma House Assessment & Treatment Centre which led to the creation of an alternative education program within the Vancouver school system.
Twin Rainbow-Irwin
has practiced his educational-healing arts in a number of venues in Canada and the United States: as the co-leader of a community-based residential treatment coed group home; as a
Learning Disabilities Specialist
in middle and high schools; a Home–Hospital Teacher of a mental health team that designed a nature-based pilot project to implement within a Mental Health Adolescent Day Treatment Center; as a Nature & Indian Lore Resource Specialist with Children with Learning Disabilities through various wilderness Programs; as an Assistant Director of Residential Community Life at the college level, with an emphasis on diverse multi-ethnic/cross-cultural/creation spirituality education; as a naturalist Indian Resource Specialist in a YMCA's Wilderness Camp & Conference Center; developed a pilot outdoor Education "Web of Life" Adventure program adaptable to inner-city/gifted youth, adults and seniors; served as an Earth Wisdom Guide with an Outdoor Discovery Program; developed various Native American–First Nation pilot "Rediscovery" wilderness and multi-cultural programs; developed "A Rites of Passage Experience" curriculum for community immersion/multi-ethnic/inner-city settings, that utilized Native American forms of traditional and spiritual healing techniques; created "Artist-Writer as a Spiritual Voyager" workshops for continuing adult education.
AUTHOR AS A WRITER
As an investigative reporter,
Twin Rainbow-Irwin
traveled between Canada and the United States to monitor the intense debate within the U.S. Congress over the reauthorization of its Endangered Species Act, and equally furious debate within the Canadian Parliament over its National Public Consultations on Endangered Species Conservation. After six months of intense research, the result was a fifty page monograph, entitled
A Voice In The Wilderness; San Bruno Mountain's Struggle For Survival
which was eagerly sought after by various local, regional and state environmental groups, university libraries and historical societies. He also authored an original treatment for a Screen/Teleplay Documentary,
The Great White Pine Mushroom Gold Rush; A Modern-Day Wild West.
Research was conducted in the field while immersed in wilderness nomadic 'bush camps' in the Pacific Northwest and British Columbia with the Lil'Wat Indian Nation.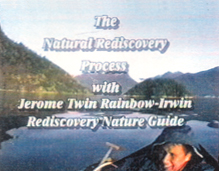 Twin Rainbow-Irwin
also produced a video entitled
The Natural Rediscovery Process
; that was part of a Squamish Indian, Rediscovery Nature Guide Demonstration Project.

Click here to review highlights of the video in
QuickTime Movie Format
.
AN IDEAL SELF

Of all the accolades and awards
Twin Rainbow-Irwin
has received over the years, the ones he treasures most are the simple words that people have scribbled into his journals, or said 'round a campfire, about the 'Johnny Appleseed' moments of magic and mystery they've shared together in Nature. Words like, "I'm going to miss you a lot. I thank you for telling me things I never knew about Indians and Nature…"What I'm really trying to say is deep in my heart Î am going to cry before I leave"…"I'm having a hard time withdrawing from the Indian songs we sang. Thanks for the memories. If you are ever desperate for a camp ground, I have a few acres of eucalyptus for you to throw your bedroll under"…"Thanks for teaching me all that fun stuff like going on night hikes and going to the sacred circle to watch the stars."…"The funniest thing we did was get up early in the morning and go down to that creek and put our heads under that waterfall."…"Thanks. I never knew you could eat wild plants. They taste hecka good"…"Following you through the forest, seeing lights turn on in youthful eyes as doors closed momentarily to their crazy "ping-pong" world, I discovered new secrets and beauties in my life. Most important was the way young people readily accepted this old woman of a different age that I am. I was now a companion who had shared with them a magic experience."
Perhaps the best award of all was a rap that one group of students wrote in Twin Rainbow-Irwin's honor that goes:

It's time to rhyme and get in line
And talk about this favorite thing of mine.
It's called nature
So listen up y'all.
You could be in the mall
But you're here
So we'll tell what we saw.
We saw deer, newts and salamanders, too
But there's not only things to see
There's things to do.
You can run, swim or even take a hike
'Cause U have a lot more things 2 like.
U can kiss a slug, and if you did,
Give yourself a hug.
We think you're nuts
But that's OK, 'cause you've got guts.
We have to go
Say bye 2 the 'hole.
Now that we have deepened our soul
Thanks to the naturalists, especially Jerome,
We can bring nature into our home.
AHO!
When asked to ascribe to himself the title that best suits his life's goal, Twin Rainbow-Irwin simply says, "I aspire to nothing greater than to be known as a wandering 'Johnny Appleseed-John Chapman' mendicant.


return to top