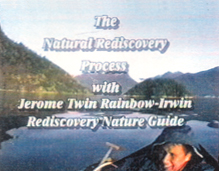 Twin Rainbow-Irwin brilliantly introduces an international gathering of academics, sociologists, psychologists and community planners to the Rediscovery concept.

Through experimental moments in the wild, he exposes us to how - no matter what our race, color or creed - we can establish relationships between our body-mind-spirit, the natural world where we live and the ancient lore, and traditions of whomever the indigenous peoples of that place.



To review highlights of the The Natural Rediscovery Process click on the following:

QuickTime Movie Part 1 QuickTime Movie Part 2


You will need to download a copy of QuickTime™ in order to view the movies. This is free from Apple Computer (http://www.apple.com/quicktime/download/).
QuickTime™ is available for both Macintosh and Windows computers.